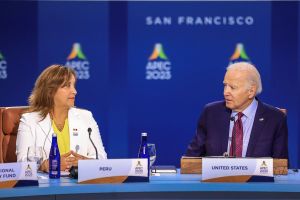 The President of the Republic Dina Boluarte on Friday 17th Nov 2023, received the Pro-Tempore Presidency of the Asia-Pacific Economic Cooperation (APEC) forum for 2024 from United States President, Joe Biden.
The handover took place in a ceremony led by the U.S. Head of State, who underscored some issues addressed during this year's summit, such as the participation of women in the economic sector and the use of technological advances. In turn, Mrs. Boluarte invited the 21 APEC member economies to visit Peru in the next edition of the Leaders' Summit that will take place in different cities of the South American country, such as Arequipa, Cusco, Trujillo, Pucallpa, and Lima. "You will honor us with your presence, and we will receive you with the same affection as always. We will work together hand-in-hand, all of us, so that next year APEC shines with its own light from our imperial city of Cusco, from our beloved Peru to the world," she expressed. Likewise, the top official stressed that efforts to preserve the environment involving youth will continue. "I believe that these economies present today, (thus meaning) we, the leaders here, have that high responsibility to work on that development and in that search to take care of our home, our planet Earth," she added.
"We want to wait for each one of you next year to honor us with your presence in Arequipa, in the Sacred Valley of the Incas in Urubamba, in the spring city of Trujillo, in the beautiful Amazonia in Pucallpa, and of course in our capital Lima," Mrs. Boluarte specified.
Inclusive economies
For his part, President Joe Biden pointed out that "when Peru hosts APEC, it will help promote inclusive economies" in the Asia-Pacific region.
The North American leader also underscored that U.S. companies have announced more than US$500 billion in investments in APEC economies.
Third Peruvian Presidency
This handover marks the beginning of Peru's Presidency of the APEC forum which, after a series of sectoral and business meetings, will end in November 2024 with the Leaders' Week. It should be noted it is the third time that Peru assumes the responsibility of leading said important economic-trade forum.
Previously, Peru held the APEC Presidency twice, in 2008 and 2016.