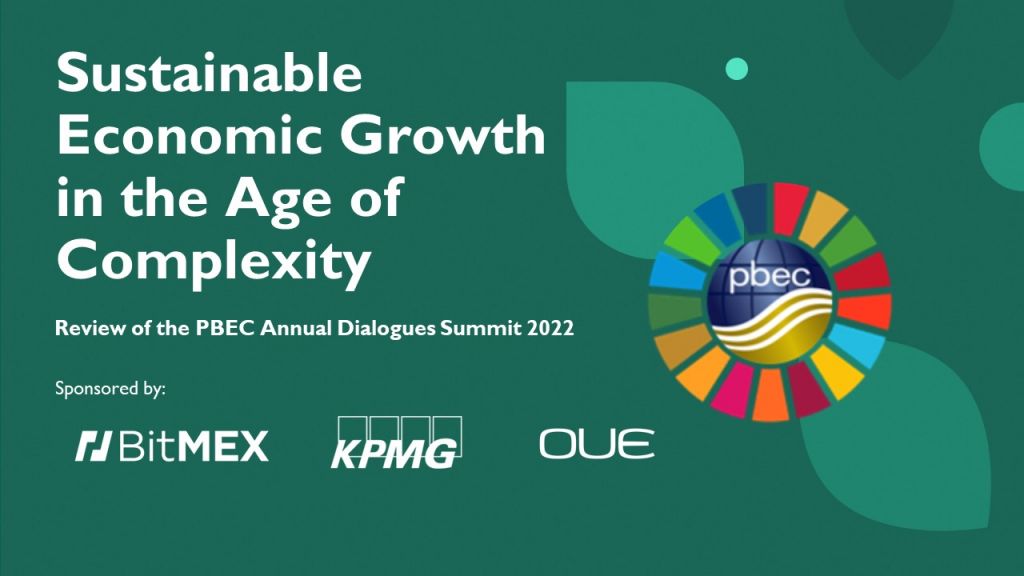 The Pacific basin Economic Council (PBEC) is celebrating its 55th anniversary this year since its establishment, in lieu of which we just concluded our Annual Dialogues Summit today which was held over 2.5 days from the 22-24 November 2022, virtually over zoom events. We wish to express a special thanks to our Platinum Sponsors KPMG, OUE and BitMEX.
PBEC assembled 75 business, Government, Non-Government and academic leaders from across the globe, but in particular from the 21 Member States of APEC. In addition to our tradition homebase of Hong Kong SAR & China, we connected with members from the continent of America – including members from Canada, USA, Mexico, Peru, Ecuador & Chile. From East Asia – we welcomed members from South Korea and Japan. From the Pacific we welcomed Island members from the State of Hawaii & French Polynesia. From ASEAN we welcomed members represented from Vietnam, Malaysia, Philippines, Indonesia, Singapore, Thailand & Timor Leste which has recently announced a pathway of ascension to becoming an ASEAN full member, which was announced at the ASEAN Summit in Cambodia held earlier this month. From Oceania we welcomed members from Australia and New Zealand. For those countries not in APEC, we also welcomed representatives from the UK, Germany, France, India & Brazil.
The main missions of the PBEC are to facilitate cross border business intelligence, foster new relationships and promote cultural exchanges as well as providing opportunities for high-level engagement with Governments from across the APAC region. We are pleased to have been able to uphold our root values and missions throughout this Annual Dialogues Summit where we brought together over 75 business, government and academic leaders to provide valuable insights spread across 22 carefully curated sessions, 19 of which were live streamed to over 2,768 people. All our sessions were recorded and are made available for free to the public online to uphold our purpose in being inclusive and sharing our IP knowledge to help tackle the most urgent of issues we all face.
This year's theme was "Sustainable Economic Growth in the Age of Complexity" and we have attempted to address some of the key themes coming from the recent APEC, G20 and COP27 summits. What are the challenges and approaches that are being taken by organisations in the APAC region but with sustainability as a priority.
We explored the importance of building Trust, bringing inclusion, not just from a gender perspective where we accomplished 39% of our 75 speakers being female leaders up from 28% in 2021, but from ethnic minority groups and different nationalities, on that front PBEC was extremely pleased to have Timor Leste, Peru, Hawaii and French Polynesia represented and speaking for the first time in years. Ongoing Education that is fit for business purpose and more Diversity on boards was highlighted as two major priorities of focus for organisations. This can be encouraged by and must include the voice of a collaborative youth network spanning across various borders and industries.
In terms of trade trends in the region, Vietnam, India, the Philippines, Thailand and Indonesia are enjoying the shifts in capacity and production that are witnessing firms reducing their footprint in China, whilst seeking to increase resiliency in their supply chains.
In this age of innovation, there is a need for being more entrepreneurial, exploring new areas and being confident enough to take risks.  The circularity of finite resources (SDGs) is a matter of prime importance now and Sustainability is on track to become obsolete and replaced with Regenerative in the Development Goals (RDG). Now is the time to not only sustain but improve which is where the meaning of regenerative comes from (I.e. leave a place better than as you found it), and what better way than to learn from Island led climate mitigation and adaptation efforts (Islanders know best!) was what stuck in my mind from Celeste Connors Executive Director of Hawaii Green Growth and East West Center, that are transferable to big cities and bigger countries.
Such dialogues should be treated as a gateway to our next steps that involve urgent execution and navigation, which involves having a clearer roadmap to achieving all the targets set by individual countries and corporations. ESG efforts must come closer to what will likely be renamed SDGs to RDGs in the future for PE investors and institutional investors.
Financial institutions and the Insurance sector need to facilitate the transition that we are already in now and should not abandon or make it prohibitively expensive due to the unfair risk profiles to those sectors or companies that require ongoing assistance and help. Without sufficient patience and providing access to affordable funding that is required to keep the lights on, will anyway lead the world to an even higher volatile space.
Finally, we must take cognizance of the importance placed on building trust, mending bridges, increased collaboration and data sharing of best practises, regular engagement and cultural exchanges especially amongst the youth. Learning how to do business in a particular country or region comes full circle, as it helps build trust, respect and tolerance of one's customs. The importance of health has been highlighted by the recent covid pandemic (but we should also be mindful and supportive by including mental health) and having family and friends support around us.
It is our time to act now and act faster. We live in both the most exciting & challenged areas of the world across APAC. There exist many untapped opportunities to be explored but these now need to be viewed through our newfound green lens. We are on the path to a digital enabled trade led recovery, but we must all speed up our climate mitigation actions, no more waiting to be told, just need to take the plunge! On the back of this summit, I held a family meeting about how we can increase our own recycling habits in our home, reduce water and electricity usage and look at downloading a carbon footprint offset app that was shared in the summit based on our purchases but also rewarding us for recycling more.
That being said, to delve deeper and gain further insights into what our speakers had to say directly, and share is too much to cover here, and I wouldn't be doing it justice. We are therefore proud to be able to provide all the recorded sessions for free.
REMINDER: All the PBEC Summit sessions were recorded and are now available free of charge by clicking here and logging into your own zoom account. CLICK here to view or listen to at your leisure from the PBEC YouTube Channel. We invite you to follow and engage with us on LINKEDIN as well.