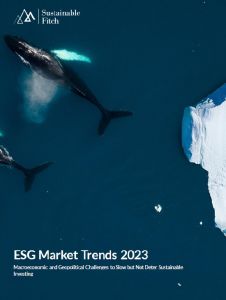 Sustainable Fitch's five key ESG Credit Trends for 2023 are:
1. Economic and Political Challenges to Test ESG's Staying Power
2. Increased Focus on Climate Pledge Follow-Through and Implementation
3. Growing Physical Risks to Drive Short-Term Mitigation Strategies
4. Emerging Markets to Benefit from Focus on Nature and Climate Equity
5. Private and Retail Investors Bring New ESG Priorities to Capital Markets
Despite difficult market and economic conditions, ESG's importance in investments and corporate management has continued to grow. In 2023 we see ESG maturing as it is used to approach topics such as physical risk, energy security, natural capital, economic development, and social impact. Check out this latest Report from PBEC strategic partner Sustainable Finch with PBEC Patron Member contributor KPMG.
Corporates to re-Evaluate ESG Strategies Ahead of Recession
With a looming recession, investors must consider whether they will continue to allocate capital based on ESG principles when returns are no longer as easy to come by. The onset of a bear market will also test companies' commitments to ESG investments and projects.
Some corporate leaders are already planning to put ESG projects on hold as many prepare their businesses to weather a potential recession, according to a KPMG survey.
About half of 1,325 chief executives of companies with annual revenues of at least USD500 million indicated they "are pausing or reconsidering their existing or planned ESG efforts over the next six months" with about 34% already having done so.
Source accredited: Sustainable Fitch: https://www.sustainablefitch.com/infrastructure-project-finance/esg-credit-trends-2023-12-12-2022