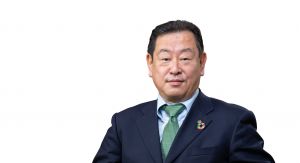 Suzuran Medical Inc. started the manufacture and sale of cotton bedding over 180 years a
go, the company has always dealt with cotton. Using this natural fiber as a base, Suzuran are pushing forward with research into cotton to help assist in humanity's bright future. Expanding from its unique experience with such products in the medical world, they have taken the same dedication to customer benefits into their baby, hygiene, and cosmetic products.
Suzuran Medical's President is Yasuhiro Kunieda, born in 1961 in Japan.  After graduating from law school at Meiji University, Kunieda joined Suzuran Medical, Inc., a manufacturer of medical cotton and gauze, where he engaged in sales for the medical industry. In 2008, Kunieda became president of Suzuran, focusing on delivering its high-quality products to sanitary, cosmetic, childcare, and nursing fields both within Japan and abroad.
Kunieda's motto is "to take on new challenges," and those challenges include the further exploration of international markets, investment in new technology, and working toward the UN Sustainable Development Goals by reducing the environmental impact of its manufacturing process. Kunieda continues to carry out charity work by donating masks during the COVID-19 pandemic and making annual donations to the Japan Red Cross foundation.
"We are honoured to be a part of the PBEC family. As a member of PBEC, we are committed to revitalizing the Pacific Basin economies through dialogues, engagement and advocating for inclusive & sustainable growth. We look forward to meeting many of you in due course, and hope many will come to visit our facilities in Nagoya, Japan soon." Said Yasuhiro Kunieda President of Suzuran Medical Inc.