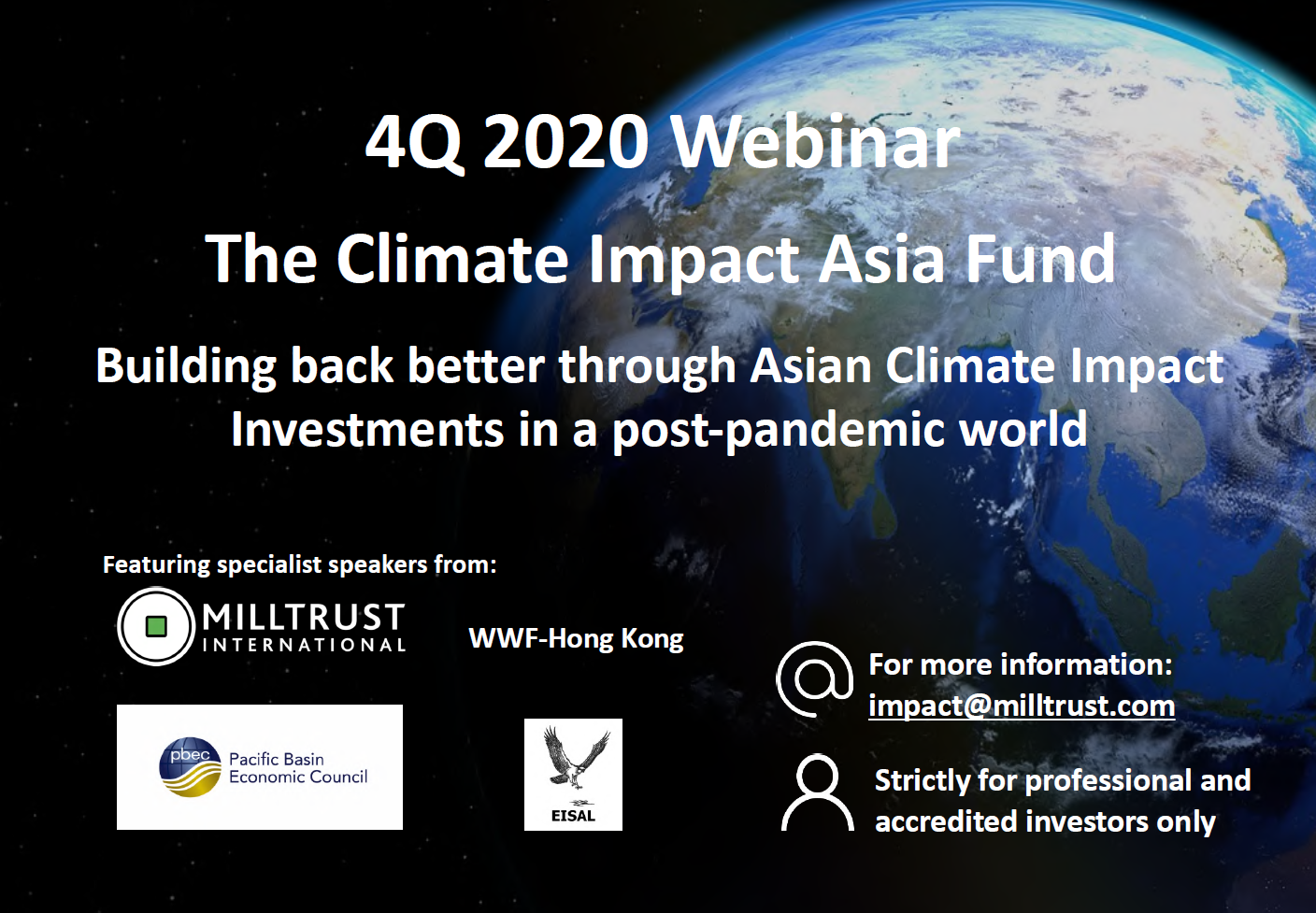 We recorded a live special webinar in London on "Building Back Better" through Asian climate impact investments in a post-pandemic world with specialist speakers from Milltrust International, Environmental Investment Services Asia Limited, WWF-Hong Kong & PBEC. Strictly targeted at professional and accredited investors only.
Webinar content:
1. Welcome and Introduction
2. Inspiring Asian Climate Impact Investment – Themes
a) M&A in Asia Pacific Renewable Energy Sector
b) Developments in the Asian New Energy Vehicle Industry
c) Asian Green Yieldcos & Low Carbon Utilities
d) Asian Plant-Based Alternatives to Meat & Dairy
e) Beneficiaries of India's Pioneering Renewable Energy Policies
3. The Climate Impact Asia Fund: Impacts and SDG Alignments
4. WWF-Hong Kong: Environmental Consultant and Delivering a Leading Conservation Mandate for the Fund
5. Q&A
6. Final Words Duration: 45min.
Speakers:
Alexander Kalis – Managing Partner | Milltrust International LLP
Jeremy Higgs – Managing Director | Environmental Investment Services Asia Limited
Josh Mostyn – Analyst | Environmental Investment Services Asia Limited
Jean-Marc Champagne – Head of Environmental Finance – Asia Pacific | WWF-Hong Kong
Renee Pan – Pacific Basin Economic Council
Simon Hopkins – CEO | Milltrust International Group
Watch the webinar here:
SPEAKER BIOS
JEREMY HIGGS, EISAL
Mr Higgs serves as the Chief Investment Officer at EISAL a specialist green investment advisor based in Hong Kong focusing on the low carbon environmental goods and services sector in the Asia Pacific region. Mr Higgs launched the Green Dragon Fund in 2006, which since inception has donated more than US$1.4 million to registered charities, active in environmental conservation and education in Asia. Mr Higgs also oversees the publication of EISAL's proprietary low carbon research reports and financial models on Asian listed green corporates. EISAL's company research reports include a proprietary section on Environmental Social Governance (ESG) that assists ESG analysis being integrated into the investment decision-making process. Prior to founding EISAL, he spent 22 years in the investment management industry holding senior positions at Indosuez Asia Investment Services Limited, Carlson Investment Management Far East, Investors Group International and Bowen Capital Management from where the Green Dragon Fund was launched. Mr Higgs first came to the Far East in 1976 when he joined the Royal Hong Kong Police Force and left as a Chief Inspector in 1983 to join the financial services industry. He is a Trustee of WWF-Hong Kong
JOSH MOSTYN, CFA, EISAL
Mr Mostyn is an Analyst at Environmental Investment Services Asia Limited (EISAL). He joined the firm in 2015. Mr Mostyn produces in-house green
company research reports and financial models for EISAL on Asian listed green corporates. EISAL's company research reports include a proprietary section on Environmental Social Governance (ESG) that assists ESG analysis being integrated into the investment decision-making process. In 2013 Mr Mostyn was selected for the John Swire & Sons House Staff Management Trainee Programme. He was seconded to Cathay Pacific Airways in Hong Kong as Assistant to the General Manager of Revenue Management and Assistant to the Head of Customer Relations. Mr Mostyn holds a BA in Politics with International Relations from the University of York. For his second year Mr Mostyn was nominated for exchange at the University of Hong Kong. Mr Mostyn is licensed by the SFC as a Type 9 Asset Management representative.
SIMON HOPKINS
Simon Hopkins has been a senior figure in the international investment management industry for more than two decades, and a champion of investors' rights. Currently, he is the founder and CEO of Milltrust International Group, overseeing investments with a focus on sustainability across 32 developing public equity markets, as well as substantial institutional allocations to farmland investments in Australia and New Zealand, and science and technology investments through the British Innovation Fund, Future Health and the NUS Kickstart initiative. In addition to the group companies, Mr Hopkins serves as an investment advisor to the British Innovation Fund, a U.K. University Venture Fund. He started his career at S.G. Warburg, and UBS, and held senior roles at HSBC James Capel and Nomura. He then went to found, build and exit an award-winning alternatives investment advisory Fortune Group, which was sold to LSE-listed Close Brother Group. He is a director of Swallowcourt, a healthcare business, Xoomtrip, a GCC-based online travel agent,
and Roslin Technologies (University of Edinburgh). He serves as a member of NUS Medicine International Council (NIC). From 2015 to 2019, he was a director and and investment advisory committee member of CITIC Securities' One Belt One Road Fund and from November 2011 to 2019, he was a director and investment advisor to Novare Fund Manager, an African private equity firm. Mr Hopkins graduated from the University of Bristol Faculty of Law (LLB Hons) in 1986, and he recently completed a post graduate diploma for non-executive directors.
RENEE PAN , PBEC UK/EU
Renee PAN has been in the M.I.C.E (Meeting, Incentive, Convention and Exhibition) Industry for over 12 years and has built up expertise as well as overseeing of sales and marketing activities that have spanned between China and Britain. Highly service-oriented, she has abilities to develop, promote and implement organization-wide programs. She is creative and recognized as a result oriented and solution-focused individual. Renee has experience in advising high net worth clients on a range of areas relating to personal investment in the UK. By developing her Family Office and Boutique Business Consulting professional, she has established trusted connections in the global private wealth business and has overseen the administration of a variety of significant structures including trusts and family limited partnerships for a global private client base. During her career development in the UK since 2011 till now, she has also demonstrated a great passion for the British General Aviation industry and believes in the philosophy of quality service. With her sound understanding of Chinese market dynamics, solid knowledge of distribution channels and well-established network in the General Aviation industry, Renee is well placed to make a major contribution to any organization in related domains domains. Having received a top-class education domestically and abroad, Renee never hesitates to undertake opportunities for acquiring and reinforcing knowledge. She has a proactive and dynamic approach to problem solving and identifying best practice opportunities. Renee is a good listener and is able to deal with situations that involve the attitudes, opinions and feelings of others including cross-cultural relationship management. Renee is the uniquely positioned to strategize and deliver you the best 360degree consulting services of the Great China & Singapore market in the UK, Switzerland, Isle of Man and Monaco regions.