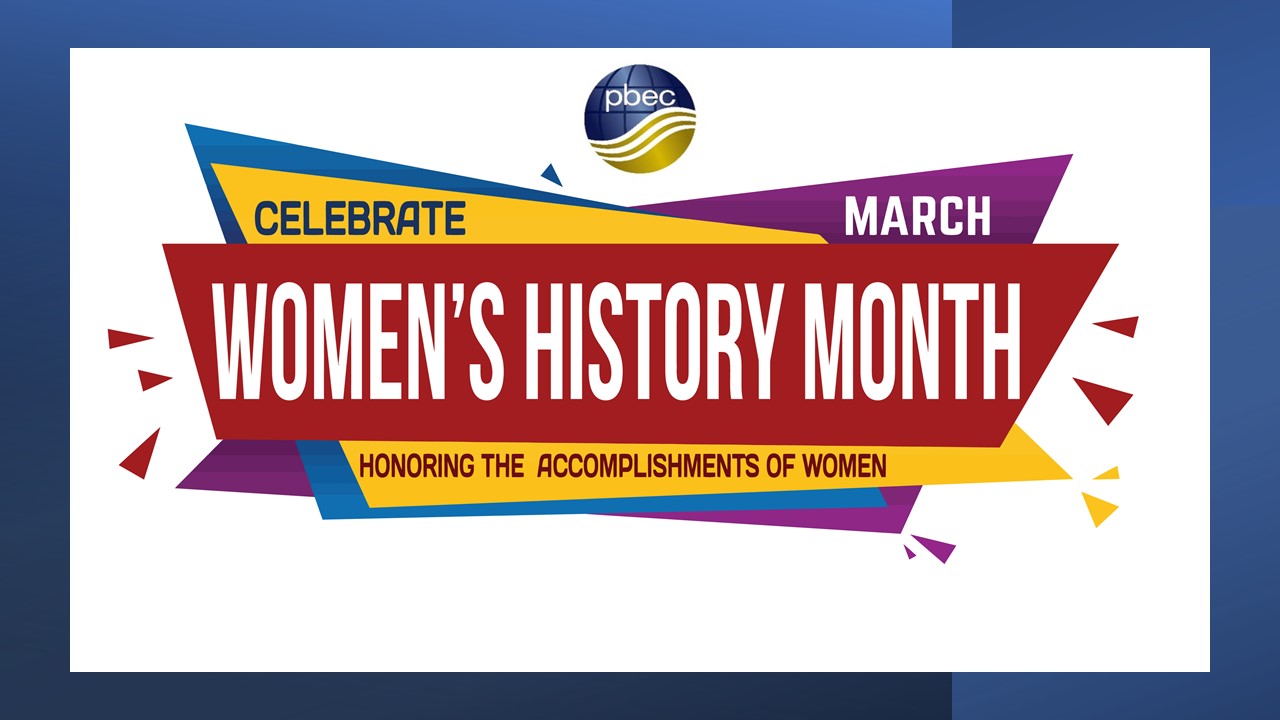 We sat down with aviation boss & PBEC Board of Director Diana Chou again after a year like no other.
As the daughter of the Hong Kong tycoon who founded Dragonair, Chou had a strong connection with aviation when she started selling aircraft.
Entering her third decade in aviation, she has been busy attracting investment despite Covid-19 into 'disruptive' & 'sustainable' related businesses amid growing demand for advanced air mobility, shared air transport & exploring innovative ideas to meet the new net zero carbon targets set in China, whilst preparing for these new opportunities to come.
"I don't have an aviation background. My family does; my father started Dragon Air [what was Cathay Dragon till its recent closure, the first Chinese air company in Hong Kong due to Covid-19], but I personally never worked for Dragon Air. None of us siblings were involved in the management or operation of the airline. We always had professional people running the company.
I was once interviewed for a job in marketing but decided that I didn't want to do it. I decided to go and do my own things. I didn't want to be working under the family at that time.
I learned about business aviation later through my brother, Silas, who was running a number of apparel brands and developing clothing companies in the US. He was using small jets, such as Learjets, to run roadshows around the country. Once he started using them, he got hooked on them, as they are so convenient. It is quite normal for businessmen in the USA.
IN THE BEGINNING IT WAS EXTREMELY CHALENGING BUT I PERSEVERED & IT PAID OFF
The other aviation connections came through one of our business partners, who was the neighbour of Pierre Beaudoin – whose family owns Bombardier – and the fact that we were very close friends with the Ojjeh family, who are the former owners of TAG Aviation/TAG Aeronautics.
So, when Bombardier was looking for an agent to represent them in China, in the late 1990s, it was quite natural for them to ask us – my brother, his partner and TAG, whether they were interested. The three boys got together and agreed to represent Bombardier in Hong Kong, Macau and China. I was pulled in because, of the partners, one lived in Europe, one lived in Montreal, and my brother was travelling between Hong Kong, Europe and North America, so who was actually going to sell the aircraft? My brother approached me, while I was Brand Manager – Clinique for Estée Lauder, and he said: "Since you are working so hard, making money for other people, why don't you start this business for us?" And that was how I started, at the end of 1998. That was the beginning of Sino Private Aviation. We signed a representation agreement and never looked back after that.
Because of my involvement in private jets, I started to look at helicopters. The market had begun to mature, and I wanted to be involved, so I set up Aerochine in 2010, working for Bell Helicopters. This and my other charter brokerage subsidiary L'Voyage became part of our holding group Dragon General Aviation Group. I took an opportunity to sell Aerochine Aviation subsidiary Zhenjiang Aerochine Aviation our leading helicopter MRO-Maintenance, Repair & Overhaul facility in Mainland China to Bell Textron in July 2020."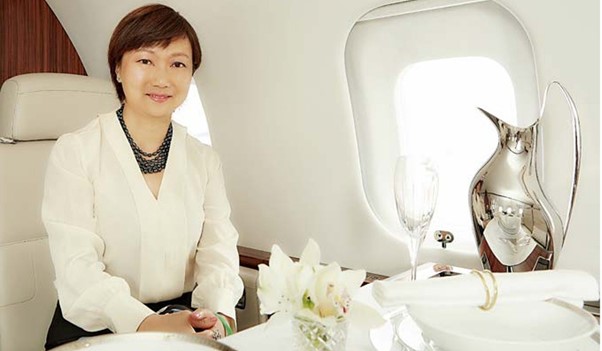 Diana Chou: the first two years were "very daunting". Photo: Handout
In 2020, Chou was one of 22 women in the Asia-Pacific region recognised in the 2020 EY Entrepreneurial Winning Women programme, which provides advice, resources, and networks.
"I have brought in a new shareholder and appointed a new CEO of L'Voyage to run both the luxury Travel and charter divisions. I am excited to announce that Jolie Howard the former CEO of Tag Aviation Asia has joined us, whom together we are looking to pivot the company to include other aviation related investments in technology. I also hope to announce shortly further plans we are embarking upon around renewable energy within aviation but can't reveal just yet, but I am excited about these new focus areas for the group."
JOBY AVIATION valued at USD6.6 Billion through latest SPAC Listing on NYSE
In the Advanced Air Mobility sector – Chinese companies like Geely based in Hangzhou, one of China's largest car manufacturers, are among those continuing to invest heavily into the sector as is E-hang a NASDAQ company based in Guangzhou and DJI based in Shenzhen, the largest civilian drone manufacturer in the world. Recently US based Joby Aviation announced going public through a SPAC reverse merger with Reinvest Technology Partners to raise additional capital from the US equity markets, valuing it at USD6.6B in the NYSE, whilst in Europe, German Evtol manufacturer based Volocopter raised an additional USD240M in its latest capital raise.
VOLOCOPTER raise USD240 Million in latest capital round
Diana says the Chinese government recognises the general aviation market's potential to bolster overall economic growth and had invested resources like infrastructure to help the industry expand, they also have several domestic operator incentive schemes to develop your business.
At this moment, the Chinese agricultural & energy sectors, special missions and monitoring work conducted by the civilian police force, government agencies for aerial mapping and topography, coastguard and emergency services have benefited the most from these new drone technologies, but proactive security and safety checks surveillance around complex's, commercial real estate and on construction sites has also seen a major increase in their use. Of course, in entertainment and film, drones are utilised and have replaced helicopters for shooting aerial shots. Whilst last mile logistics firms like JD.com, Alphabet, Airbus, Amazon, UPS and Alibaba subsidiaries like Cainiao are using them within their automated sorting centralised e-commerce depots but also running pilot projects in home delivery services as well. A new Frost & Sullivan Report stated 2.2 Million delivery drones will be in service by 2025 which will create a surge in drone servicing, repair, and maintenance.
JD LOGISTICS, AMAZON PRIME, ALIBABA CAINIAO, UPS, AIRBUS, ALPHABET
The biggest challenge for further adoption across China & Asia remains not the technology but getting regulatory approval. Chinese airspace is controlled by the military air-force and low-altitude airspace is not yet completely open for general aviation use. However, there are increasing broader pockets of civilian airspace being allocated within provinces for R&D and trialling such passenger carriage technologies. This is where being a part of PBEC really helps raise awareness with policy makers.
INDUSTRIES BIGGEST CHALLENGE IS GOVERNMENT REGULATION & PUBLIC ACCEPTANCE
Diana see's China market demand for all of the above and being a leader alongside the USA and 1-2 others in adopting these technologies. It's a specialised niche but exciting area and she has used the Covid-19 pandemic period to readjust, make new plans and focus her decades of experience on being ready for the next boom in the aerospace sector that will come.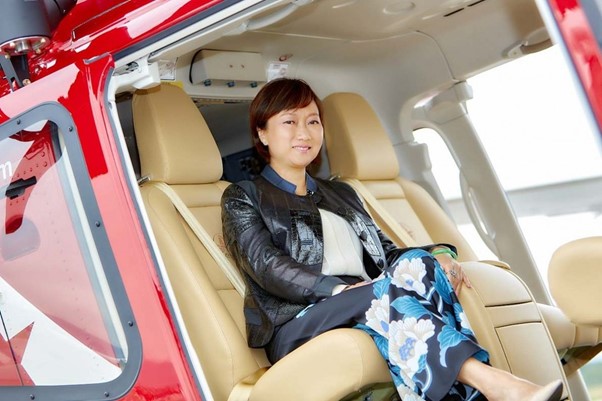 Diana Chou: The rotor industry is going hybrid & all-electric". Photo: Handout
Diana is always looked up to as a role model for aspiring younger women in the Business & General Aviation industry.
"I think that in Asia we just have very strong women! I really feel that not just in Asia, but worldwide the female movement has liberated women to look at their careers from a different perspective. In the US, in the UK, Europe, you see very powerful women as Prime Ministers and heads of state. These people are our role models really, not so much myself. I would encourage other people to go after their dream. Male or female."
WE HAVE VERY STRONG WOMEN IN ASIA WHO TAKE THE INITIATIVE & NOT AFRAID TO LEAD
"The women in aviation around Asia do get together every now and again to encourage each other, because it is not an easy sector to rise to the top in, it's still very much male dominated. The most difficult thing in our industry for women is to balance your work life and your family life, especially when we travelled so much pre-covid. That perhaps is changing for the better with the digital communication technologies which allow us to be more strategic in what events we attend in person going forward. However, the nature of our business, still requires a lot of face-to-face time and this will pick up again from 2022. Some of us have kids, like Jolie Howard, she has three sons, so it is not easy to balance all that. Some of us are lucky and some are not so lucky. You have got to have a very understanding partner, peers & friends to support you."
At PBEC Diana has our full support, and we wish her & Jolie all the very best of success as two leading women in aviation in Asia navigate the recovery of this special industry.
Editor: Michael Walsh PBEC CEO